GIBIGIANA


Gender:

feminine;

Type:

noun;




flash of reflected light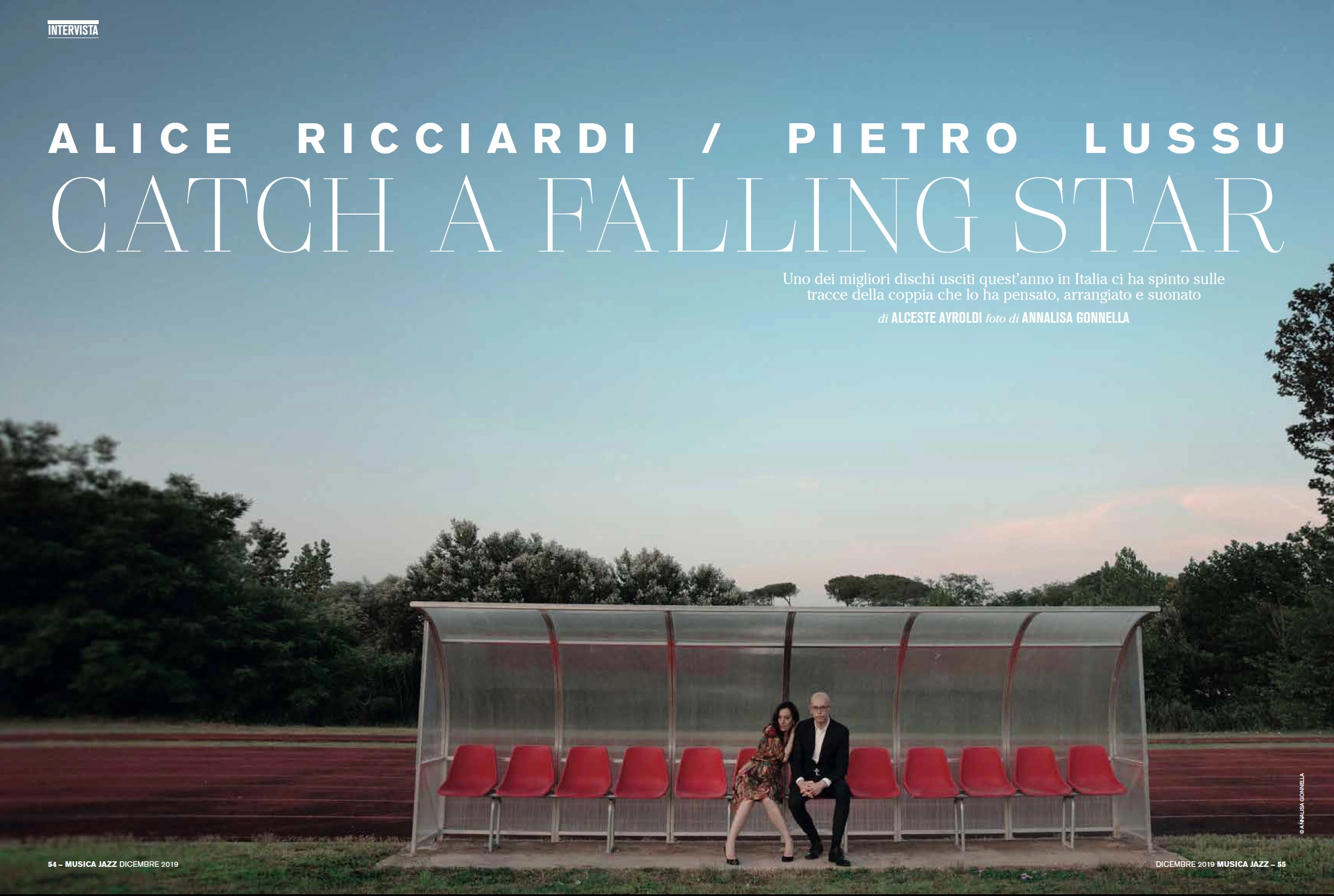 Independent Jazz Label based in Rome, founded by Alice Ricciardi and Pietro Lussu
In their first duo album "CATCH A FALLING STAR", coming out on September 20 2019 for the newborn Gibigiana Records founded by the artists themselves, besides original music, singer Alice Ricciardi and pianist Pietro Lussu pick through their favorites from various musical sources: the majesty of the American Songbook, Pop Music from the 50s and 60s (Perry Como, The Beach Boys), Contemporary Music. In a very eclectic musical program the "fil rouge" is embodied by the unique sound  and cool approach of the duo. Alice delivers her knowledge of jazz vocal culture, melodic imagination, subtle interpretation of lyrics through the sound that brings her close to the listener. Pietro is a sensitive and challenging partner, combining imagination with elegance, irony, tradition and unexpected turns. The duo embraces the music with love, curiosity, intimacy, and spontaneity. The distinctive and dynamic interplay, as well as the sense of suspension, allusion, are all expressions that the listener completes in a myriad of personal interpretations.
"A master phraser with a fresh point of view, Ricciardi is alternately surrealistic and swinging" 
TED PANKEN  (DownBeat Magazine USA)

"I love voices; Jeanne Lee, Abbey Lincoln, Mahalia Jackson, Chris Connor, Christine Correa, Sara Serpa, Alice Ricciardi" RAN BLAKE pianist / composer / MacArthur Genius Grant
"Sfugge i generi perché è musica pura affrontata con cultura e purezza, questo raffinato, emozionante album fatto di piume e pietre, pause e contrappunti, che attraverso un percorso nobile (ma non privo d'azzardi vittoriosi) fa esplodere i mille colori possibili d'uno spartito in modo assoluto quanto intelligente, attento, garbato." - Andrea Pedrinelli 
"Non è semplice muoversi nel duo voce e pianoforte senza rischiare di rimanere intrappolati nel déjà écouté o in qualche implacabile banalità. Ricciardi e Lussu dribblano ogni trappola mettendo sul piatto un ricco canzoniere ma, soprattutto, una sorprendente freschezza espositiva" - Alceste Ayroldi MUSICA JAZZ
"L'interprétation pertinente et délicate des textes par Alice Ricciardi est un régal. Elle nous invite à pénétrer des mystères musicaux que l'on connait depuis toujours et qui paraissent étonnamment nouveaux. La qualité de sa diction, le léger voile dans sa voix, l'art de l'étirement sur la note qui est le sien, font parti d'un tout parfaitement partagé avec un pianiste plein d'idées se faisant tout à tour poétique et malicieux, et en toute occasion inspiré. Alice Ricciardi et Pietro Lussu s'abandonnent dans l'intimité de leur musique avec une élégance discrète et spontanée qui nous offre des moments de suspension envoûtants et d'autres plus alertes non moins beaux. Jamais loin du silence, les bonnes vibrations résonnent et la sensibilité commune des deux artistes s'y épanouit dans un chant commun que l'on vous conseille vivement." 
YVES DORISON (Culture Jazz France) 
"From the opening bars of 'Let's Face The Music And Dance' it is apparent that nothing is going to be quite as it seems, with the duo playing musical tricks on our expectations. Not your usual run of the mill album, and highly recommended." NICK LEA  - JAZZ VIEWS UK   
"Un piano e una voce che cercano nuove strade, suggestioni, ispirazioni. Si addentrano in umori jazz per poi uscirne e volare più alti o in obliquo (vedi la stupenda reinterpretazione di "Good Vibrations" dei Beach Boys). Un lavoro di grande levatura artistica" - Antonio Bacciocchi   
Their music has already been documented on labels like: Blue Note/EMI (Alice Ricciardi "COMES LOVE"), Verve, Dreyfus Records, Universal, Impulse!, Warner Chappell Music, Inner Circle Music, MPS Edel. Collaborations include some of the most renowned Italian and International musicians such as: Paolo Fresu, Fabrizio Bosso, Stefano Di Battista, Rosario Giuliani, Pietro Tonolo, Flavio Boltro, Bob Mintzer, Joe Locke,Terence Blanchard, Mark Turner, Tim Warfield, Philipe Caterine, Magnus Lindgren, Jeremy Pelt, Nicola Conte, Dario Deidda, Darryl Hall, Gilad Hekselman, Gregory Hutchinson, Neal Miner, Dezron Douglas, Ameen Saleem, Will Terrill, Darrell Green, Adam Pache, Jesper Lundgaard, Morten Lund, Teppo Mäkynen, Till Brönner, Saul Rubin, Spike Wilner, Michael Kanan, José James, Greg Osby, Tommy Crane, Logan Richardson.

Alice and Pietro performed at most of the prestigious Clubs and Festivals around the world: Teatro Morlacchi Umbria Jazz, Blue Note Tokyo, Cotton Club Tokyo, Jazzhus Montmartre Copenhagen, Copenhagen Jazz Festival, Montreux Jazz Festival, North Sea Jazz Festival, Marciac Jazz Festival, Vienna Jazz, London Jazz Festival, London Barbican Centre, Sopot Jazz Festival, Auditorium Parco della Musica, Casa del Jazz Roma, Jazz Club Ferrara, Jazz Cafè London, Giuseppe Verdi Conservatory Milano, Blue Note Milano, Piccolo Teatro Milano, The Big Chill Festival UK, Istanbul Jazz Center, Bangen Jazz Festival, Aarhus Jazz Festival, Dubai Jazz Festival, New Morning Paris, Koko Jazz Club Helsinki, Regatta Bar Boston, Dizzy's Club NY, Highline Ballroom NY, The Kitano NY, Shapeshifter Lab NY, Rockwood Music Hall NY, Cornelia Street Cafe NY, Smalls Jazz Club NY, Mezzrow Jazz Club NY. In 2015 Alice obtains the Artist Visa U.S.A. for Individuals with Extraordinary Ability in the Arts, that allows her to live and perform in NYC. 
CATCH A FALLING STAR
1 LET'S FACE THE MUSIC AND DANCE (Irving Berlin)  2 CATCH A FALLING STAR (Paul Vance / Lee Pockriss) 3 BOYS AND GIRLS LIKE YOU AND ME (Richard Rodgers / Oscar Hammerstein II) 4 CLUES BLUES (Alice Ricciardi / Pietro Lussu) 5 GOOD VIBRATIONS (Brian Wilson / Mike Love)  6 LIZA (George Gershwin / Ira Gershwin / Gus Kahn) 7 SUNDAY, MONDAY OR ALWAYS (Jimmy Van Heusen / Johnny Burke) 8 Y-AM (Alice Ricciardi / text by Eva Macali)  9 TO ONE I LOVE (Alice Ricciardi /  Pietro Lussu / poem Chin Dynasty 265-419) 10 WHAT IS THIS THING CALLED LOVE (Cole Porter)  11 UTAH (Steve Lacy / text by Giulia Niccolai)  12 I LET A SONG GO OUT OF MY HEART (Duke Ellington / Irving Mills / Henry Nemo / John Redmond) 13 AND PINK, AND GOLD, AND BLUE (Alice Ricciardi / Pietro Lussu) 

ALICE RICCIARDI  VOCALS  PIETRO LUSSU PIANO / FENDER RHODES

RECORDED, MIXED AND MASTERED BY STEFANO AMERIO AT ARTESUONO RECORDING STUDIOS / PHOTOGRAPHY ANNALISA GONNELLA / DESIGN RICCARDO GOLA PRESS AGENT GIANPIETRO GIACHERY